In the final part of our interview, WalesOnline sports journalist Simon Thomas opens up about battling – and beating – cancer, how his journey to recovery affected him and how it has influenced his approach to work.
By Delme Parfitt
When a long battle with cancer had brought Simon Thomas to one of his lowest physical ebbs, a parcel arrived at his house.
Inside was a get well card from colleagues at WalesOnline – nothing out of the ordinary about that.
But the card, as grateful as Simon was to receive it, was very much the secondary item of the package. The main part was a Wales rugby jersey signed by Warren Gatland's squad.
That Gatland's players had gone the extra mile to provide Simon with a boost on his road to recovery spoke volumes for the respect he commands among them, even accounting for the traditional them-and-us frontier that tends to exist between sports professionals and the media.
It is a gesture that 53-year-old Simon will not forget.
"At that particular moment, chemotherapy had left me feeling utterly dreadful," he said.
"It was a tough and low time, so receiving that served as a real boost. The support I had from people actually in rugby was incredibly touching."
Of course, given the choice, Simon would never have wanted such a gift. At least not in the circumstances it came.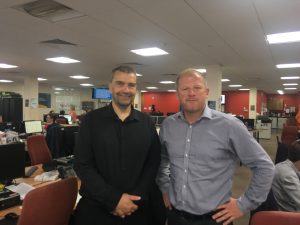 At the end of January 2018 he was given a cancer diagnosis which his consultant told him would mean 'writing off the next year' of his life.
The advice could scarcely have been more accurate. On the same date this year he got the all-clear.
As so many of his friends and colleagues testified on twitter, Simon fought the illness with inspirational fortitude and courage even though, by his own admission, there were, understandably, some very dark episodes.
"I had people in my family who had suffered cancer, and the particular type of cancer that I had as well," he told us.
"So I was very aware to look out for the signs and when the symptoms occurred, I was straight in to have it checked out.
"Because of that family history I was convinced in the back of my mind that I had cancer anyway, so when I had the diagnosis it wasn't a huge surprise to me."
They say you never know how you'll respond to something like a cancer diagnosis until it actually happens. Simon's outlook was nothing if not pragmatic and brave.
He added: "I've met so many people, especially at Velindre Hospital in Cardiff where the care is so fantastic, who are going through different stages of cancer and they deal with it in different ways.
"But for me it was quite simple; the analogy I've always used is being a passenger on a plane. If the plane gets into trouble, you don't run up to the cockpit and try to take over from the pilot.
"You let the people who know what they're doing take charge and that's the view I took from day one.
"Whatever route the experts thought was best, I agreed to go along with it. You put your trust in them. You have to."
Not that he would ever be flippant about the gravity of overcoming this disease. And Simon stressed the importance of the amazing help he had from the people who matter most.
"It has been tough because generally, with cancer treatment, what happens is as soon as you've finished one treatment and just about got over it, they put you on another one," he explained.
"I had two rounds of chemotherapy, radiotherapy, surgery and I ended up in cardiology after my first round of chemotherapy because my heart didn't take kindly to the medicine I was on.
"I've said how much help I've had from the medical profession but I've also had fantastic support from people in our industry and that has blown me away.
"The Wales jersey gift was an example of people in the rugby fraternity rallying around and then there's the response I had from the public on social media.
"I didn't go public about the illness for the attention, it was because I wanted to say thank you for the care, help and support I was receiving. It's pleased me that quite a few people have found it inspiring to follow my journey."
So just how has it affected his life as a sports journalist? Well, it's not simply been a case of carrying on where he left off.
"What it's done for me work-wise is probably change my attitude," he said.
"I sort of live each day as a bonus and I do what interests me. I write everything with the thought at the back of my mind that I'm lucky to be writing this.
"I see myself as fortunate, and want to do anything I can to explain to people the importance of checking and responding to any symptoms.
"Also, if you do find yourself in trouble, don't give up. Cancer is only a word, not a death sentence. Put your faith in the NHS because those people do a fantastic job."