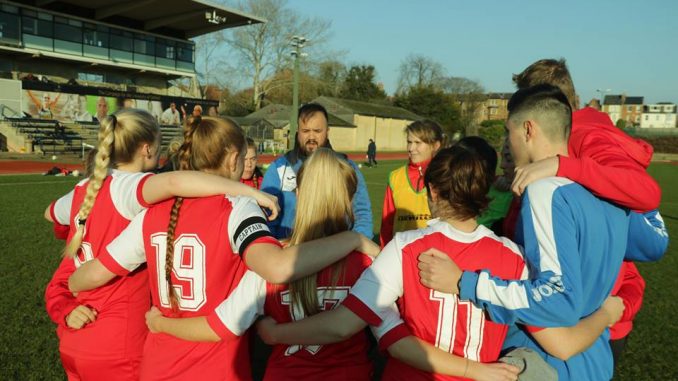 By Ethan Harris
USW Women's 1st team stopper Meg Wordingham says her side is coming together following their latest win against Oxford University 1st in the BUCS Trophy.
And the goalkeeper believes the coaching set-up has had a significant impact on their progress through to the last16 of the cup.
With a 2-1 victory and a tough Bournemouth match-up on the cards, Kaseem Taylor's team are looking to go as far as possible in all competitions.
"I think everyone has come together, everyone has gelled really quickly, and I think the morale has been really high," said Wordingham.
"I think our coaching is excellent. We've got an excellent support team all around us – it's just really helped push everyone through.
"We're all pushing through together and it's been a really good start, so we keep going from there."
Wordingham praised the togetherness of the squad, and felt they were fully deserving of the hard-fought victory against Oxford.
"I'm really happy, you know I think everyone pulled together as a team," she said.
"I think we fully deserved to win the game and go through so really chuffed.
"They were good, they put in a good few challenges at the beginning of the game, I think they were quite physical with us.
"Overall we definitely had the better of them and deserved the victory in the end."
With the league being a priority for Taylor, attention turns to Bournemouth in next Wednesday's Western 1A clash.
Wordingham is wary of her upcoming opponents, knowing just how much of a threat they can bring on the pitch.
"It's a big challenge, I think the game we had against them at their ground was a tough one.
"It was a close game but building on the last few we've had with a couple of big wins, I think we've got every chance and we're all feeling very positive."